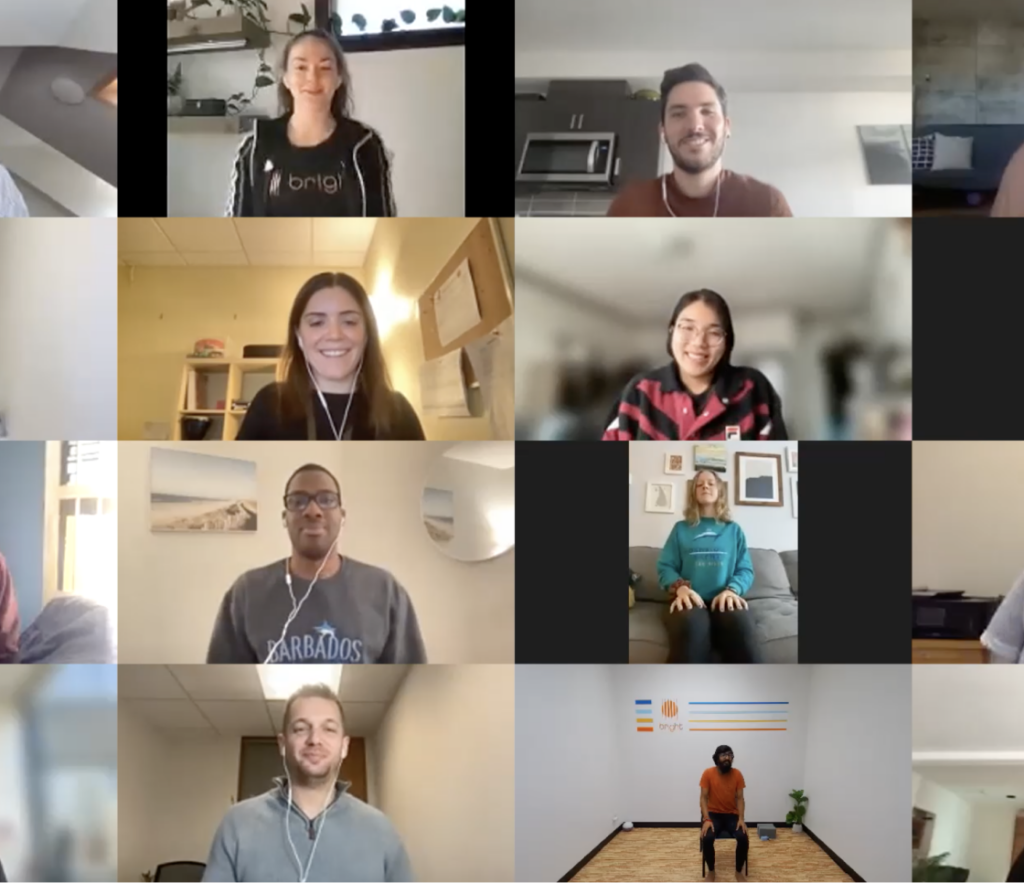 Have you taken a break today?
We're talking about an "active recovery" break from work that helps you recharge, realign, and refresh your body and mind.
A break that's worth taking. A break with ROI.
If you haven't taken a purposeful break yet today (or dare I say this week), it's likely that your dedicated team of employees have not taken one either.
When it comes to leading a company, everything you do as a leader is mirrored by your employees: your work ethic, your dedication, and your wellness.
It's important that you know wellness is important.
And that you know taking breaks is important.
A great way to familiarize yourself with wellness is to recognize your own healthy habits.
When it comes to wellness in the workplace, employees in every branch of the company can benefit from taking time to recharge.
As employee well-being becomes more recognized and actioned in today's workplaces, leaders must inspire wellness by encouraging breaks with benefits every day, throughout the entire company.
Employee well-being is essential in every industry and workplace for a variety of reasons and motives.
Employee well-being can take your company to new peaks; it boosts profits by saving money and reducing costs, boosts company morale and enthusiasm, and can create an even healthier and prolonged work environment. We'll cover more on this later.
What exactly is employee well-being?
When employee well-being comes to mind, we often think about how happy employees are in their jobs. But it's actually a lot deeper than we think.
Employee well-being is the full picture of health within three key pillars: mental, physical, and social.
Research shows that employees with elevated well-being are typically more energized, engaged, productive, and even more profitable. They even take fewer sick days.
The state of well-being can be influenced by dynamic, evolving factors.
Examples of well-being influences may be relationships with teammates, workload and deadlines, access to the right tools and resources, work-life balance, personal time off, work environment (if they are in the office or remote) and overall job satisfaction.
Each day holds new challenges, interactions and accomplishments. And how these emotions are dealt with depends on who experienced them (and a million other factors), resulting in different types of breaks needed during the allocated break time.
Different types of breaks may be exerting energy by moving the body or lighting fire in the brain with a puzzle challenge; different break types are resources for different needs.
Every break has the opportunity to give the body and mind exactly what it requires to get back into the flow.
Organizations with leaders who are role models for their employees' well-being saw even better results.
There are various ways in which leaders can provide support for employees' wellness practices.
Leaders who take regular and consistent breaks, prioritize health and promote work-life balance, are the leaders who will have more trusting employees and help foster the importance of taking breaks at work.
Leaders who do not take regular breaks or promote work-life balance (for example, sending emails while on vacation, not taking activity breaks during the work day, etc.), give the idea to their employees that they do not think breaks are useful.
This ends up leaving employees feeling uncomfortable taking advantage of a break.
An employee's break is only useful if they feel supported by their leaders.
Just take a look at these stats:
Organizations whose leaders were role models for prioritizing health and work-life balance were more likely to report employee health improvements (92%) and medical cost improvements (96%), as compared to top-scoring organizations whose leaders were not role models (84% and 80%, respectively).
Organizations whose leaders publicly recognized employees for healthy actions and outcomes were more likely to report employee health improvements (91%) and medical cost improvements (87%), as compared to top-scoring organizations whose leaders did not publicly recognize employees' healthy actions and outcomes (83% and 81%, respectively).
Stats that can easily be achieved by simply encouraging breaks throughout the workday and actually taking them yourself.
Why leadership should care about employee wellness and a successful wellness program
By facilitating resources for employees' well-being, leaders can provide a foundation and longevity that allows the workplace's employees to flourish.
And when everyone uses the right resources during their breaks, everyone benefits from it.
Therefore, leaders must provide these resources to every branch of the company.
Candidly: employee wellness and a successful wellness program can help drive profits, reduce costs and drive growth.

The fastest way to get a wellness program blended into your company is to reintroduce them to what a break really is. And what can be gained by taking a restful, recharging break.
How do I start promoting breaks (and making sure employees will actually take them)?
One challenge leaders face when promoting employee wellness and encouraging breaks is actually getting employees to take them.
Even the hardest worker must take a break, though they probably don't think they need to.
The best thing you can do when integrating employee wellness into your organization is to have engaged leadership. Encouragement from leadership to take breaks will go a long way toward employees actually taking them.
These dedicated employees may ask themselves, don't breaks detract from work? Or, why can't I just keep working through break time?
Turns out, the top 10% of the most productive workers work for 52 minutes straight, then utilize 17 minutes of break time to recharge, replenish, and realign their bodies and minds before getting into the flow. Working in sprints, not marathons.
Breaks enable employees to realign the body and mind to keep performing at a high level.
How can your business create a wellness culture?
Leaders should lead by example.
Introducing breaks to your company can be as easy as simply taking a break yourself.
Invite your employees to join you on your break. Whether for a mindfulness walk outside or encouraging them to try today's Wordle puzzle challenge, expressing the value of a break can inspire employees to take one themselves.
By talking about the benefits of breaks, leaders can motivate employees simply by giving their own breaks as testimonials.
Do, and they will follow.
Maintain open communication with leadership.
To provide longevity of employee wellness and well-being, the conversation about it should never cease.
Leaders can stay connected to employees by creating a two-way conversation of wellness: which resources are working, what needs to be adjusted, and so forth to ensure the wellness program is meeting everyone's needs.
The best way to continue the conversation with employees is through quick connects and check-ins, regarding the employee's ongoing experience of the wellness program as frequently as once per week.
Include the family members of your employees in social events.
The well-being of an employee has a lot to do with their social life and the people they surround themselves with.
When the whole family can partake in healthy, nourishing, and fun get-togethers, wellness is provided to all and the notion of a healthy lifestyle is strengthened.
Family, whatever that may look like, plays an integral role in employee wellness.
Preserve a firm and consistent voice from leadership regarding the importance of well-being.
Health and wellness trends can breeze out as fast as they blew in.
After implementing a robust employee wellness program within the company, a voice of reason needs to be set daily to ensure the importance of the program does not fall to the wayside.
Maintaining and constantly improving employee wellness requires leaders to stay connected and mindful of how employees are reacting and listen to all feedback that can be provided.
Continuously promote well-being programs.
To implement positive change and a successful employee wellness program, there needs to be continuous support from leadership.
Only about one-quarter of employees of large employers participate in well-being programs and offerings; without the voice, there will be diminishing well-being.
By changing the company culture and steering employee lifestyles in a healthier direction, the conversation will never end. Wellness is a lifestyle transformation. And it's ever-evolving.
Utilize employee engagement to promote well-being among staff members.
By creating a workplace that has strong and encouraged employee wellness, good things will follow.
In a study by Gallup, the most influential factors that influence employee performance are employee engagement and employee well-being. This research has also proven that robust employee engagement can ramp up employee well-being and that the extent of employee engagement ultimately affects employee well-being.
Establish a clear, unified description of what "well-being" entails.
Employee well-being is essential for the long-term success of any company. So, make it part of the policy.
Decide what your employee wellness looks like in your company and what are the most important KPIs. We can help with that.
Make wellness part of the company policy. Policies can help clarify the expectations of employee wellness, encourage consistency, can serve as an onboarding tool, and offers refreshers as needed. And, to see the most benefits, the company is going to require a Wellness Leader.
What does it look like to be a Wellness Leader?
With employee wellness at the forefront of initiatives being taken by companies around the world, enter the Wellness Leader.
A Wellness Leader is the person (or people) responsible for leading the employee well-being methods and initiatives in the organization. The Wellness Leader focuses on supporting and promoting employee wellness from development, all the way to execution, while monitoring and collecting data.
Speaking of data, this is one to be keen for. Get excited as the Wellness Leader can begin tracking the data and see real results that can be translated into direct dollars earned.
Utilize data to assess the performance of well-being initiatives.
When measuring data from employee wellness programs, consider this ROI question:
How much money has been saved or earned for every dollar the organization has spent on employee wellness?
Here are seven unique ways to measure the ROI encouraging breaks and overall employee wellness:
Engagement
Productivity
Retention
Referrals
Healthcare spending
Health metrics
Employee surveys
Here are some stats to help quantify the metrics:
In a study by the US Chamber of Commerce, it was found that if 75% of all American employees participated in wellness initiatives included in employee wellness programs, more than $600 billion and perhaps up to $1 trillion per year could be saved in medical and healthcare expenses.
A report by the not-for-profit International Foundation of Employee Benefit Plans found that when most North American employers studied the ROI of wellness programs, they discovered their overall healthcare costs decreased $1 to $3 for every dollar spent.
HR consulting firm Mercer did a study including three companies who offered different wellness programs with varying inclusivity and found that companies that offered the most inclusive well-being program experienced 11% less turnover than employers offering fewer wellness programs.
Leadership is essential for the success of any company wellness program
Wellness is a lifestyle adjustment. And not necessarily an easy one, either.
Research shows that wellness is an inside job, meaning that it's most effective when driven from within. Starting with leadership.
Both leaders and employees can benefit from a strategic and sustainable approach to employee well-being. Which literally comes from taking a proper break.
How Bright Breaks can help
When it comes down to it, a break is simply a restful recharge to give your body and mind what it requires to get back into the flow.
Therefore, your company's wellness program could just mean introducing more breaks… With Bright Breaks, we have one mission: to inspire and prioritize employee well-being.
Just listen to Jen Paterno of Big Viking Games, "What I was looking for was an answer to the issue of offering our global company as many options as possible for wellness. We needed something that could be inclusive to all our employees across 16 countries, and for all ages and abilities."
Well-being can be achieved through easy, efficient, and exciting breaks taken by any team member, at any time.
Go and take a break first, and then schedule a demo with us and see what breaks can do for you and your whole team.